Concern over French couple missing in Bolivia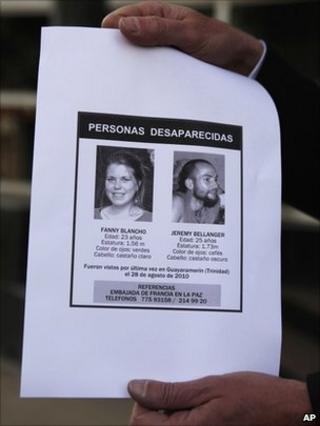 The French embassy in Bolivia has expressed concern for a French couple who went missing at the end of August in a village near the Brazil border.
Jeremy Bellanger, 25, and partner Fanny Blancho, 23, from western France, were on a tour of several Latin American countries.
Ms Blancho's three-year-old son had been left behind in Guayaramerin.
The embassy has published a notice about the disappearance in Thursday's editions of Bolivian newspapers.
"We are doing all we can can and stepping up our efforts," said France's ambassador Antoine Grassin, who said the disappearances were worrying.
He said the embassy was informed about the couple going missing in the village of Guayaramerin after some time and that they had disappeared at the end of August.
"The people who knew them in the town of Guayaramerin were late to inform the local police, who then began work on the search. Unsuccessful searches for them have confirmed their disappearance."
The couple had travelled to the area for a local festival.
"The child was staying in the house of someone in Guayaramerin. The night the two French adults went out, the child stayed in the house of the person they were staying with. He is in very safe condition and has now been brought to La Paz and we can guarantee his safety," Mr Grassin said.
"The information we have is that they left in March or April for a trip to various countries in South America: Peru, Argentina, Bolivia. They had been in Bolivia for some time. We don't have exact details."
The boy is being cared for at the French embassy and will be returned to his relatives in the coming days, the ambassador added.