Two alleged kidnappers lynched in northern Mexico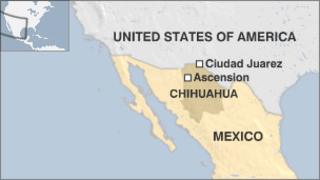 Two men were lynched after allegedly trying to kidnap a 17-year-old girl in Mexico's northern town of Ascension, prosecutors say.
Police freed the teenager and detained three men suspected of involvement in her kidnapping, but locals snatched them and beat them up.
The officers said they got the kidnap suspects into their patrol car, but dozens of people blocked their way.
Two of the injured suspects reportedly died while still in the patrol car.
The men were still alive when they were rescued by police, Arturo Sandoval, a spokesman for the Chihuahua state prosecutor's office, told the Associated Press news agency.
But other reports said the men were already dead, and that police retrieved their bodies in order to prevent locals from setting them alight.
Details of the men's autopsies have not yet been released.
The third suspect in the kidnapping is in custody in Ciudad Juarez, 170km (105m) north-east of Ascension.
A number of suspects in the lynching have also been arrested.