Row over Mexico newspaper's plea to Juarez cartels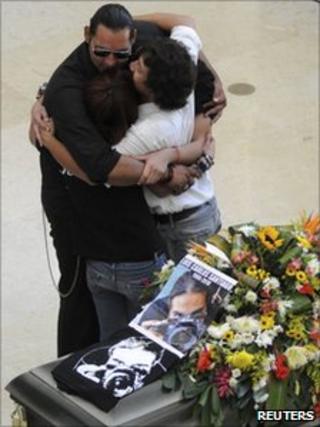 Mexico's government has criticised a newspaper for making a front-page plea for a truce with drug cartels.
El Diario de Juarez said in an editorial that reporting had become impossible in Ciudad Juarez, the northern city ravaged by a drugs war.
The paper called the cartels the "de facto authorities" and asked for advice on what to publish, days after one of its photographers was killed.
The government said no-one should negotiate with criminals.
"[They are] precisely the ones causing anxiety for the public, kidnapping, extorting and killing," said presidential security spokesman Alejandro Poire.
But one of the publishers of El Diario de Juarez, Gerardo Rodriguez, defended the newspaper's actions.
"Thankfully the editorial that we published and the question that we brought up has brought a lot of international attention to this city, to our problem and we think that the international pressure on the government will help us do better in the future," he told the BBC.
Deadly city
Last week, El Diario photographer Luis Carlos Santiago, 21, was shot while driving and later died of his injuries.
He was the second of the paper's journalists to die in violent attacks in less than two years.
The journalists were among almost 5,000 people to die over the past two years in Ciudad Juarez - one of the bloodiest frontlines in Mexico's drugs war, despite the presence of some 4,500 police and soldiers.
In its editorial on Sunday, El Diario spoke of the "irreparable sorrow" caused by the deaths.
It asked the cartels: "We ask you to explain what you want from us, what we should try to publish or not publish, so we know what to expect."
The newspaper criticised the lack of progress in the investigation into the death of crime reporter Armando Rodriguez in 2008.
But the editorial insisted it had not surrendered to the cartels, saying instead that it had simply become "impossible to do our job in these conditions".