Brazil offers Cuba help to develop small businesses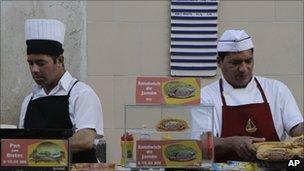 Brazil's foreign minister says his country has offered to help Cuba develop small and medium businesses as part of a drive for economic growth.
Celso Amorim was quoted as describing Cuban plans to lay off half a million public-sector workers in the next six months as "very courageous".
He said Cuba could learn from Brazil's successful experience in fostering entrepreneurship.
Mr Amorim met Cuban President Raul Castro in Havana on Saturday.
He was speaking to reporters in New York on Monday, ahead of the 65th UN General Assembly which opens on Thursday.
Last week Cuba announced plans to lose a million workers from the public-sector payroll - half of who will go by next March.
The government currently controls almost all aspects of the Cuba's economy and employs about 85% of the official workforce, an estimated 5.1 million people. There is also a burgeoning black economy.
The lay-offs are being seen as the latest - and one of the most dramatic - attempts to revive the island's struggling economy.
Mr Amorim said Brazil had successfully developed small and medium businesses and reduced the informal economy, and could share this expertise with Cuba.
"It doesn't pay off for Cuba to move 500,000 workers out of the public sector if they fall into the informal economy," Mr Amorim said, according to news agency Reuters.
He said the lay-offs were "very courageous", adding: "I believe Cuba's evolution - and I use this word deliberately - is a process that will increase opportunities."
"We're ready to co-operate," he reportedly said.
Analysts say Cuba's move is being undertaken after long consultation with trade unions and other bodies.
They say many of the laid-off workers will not become unemployed but will become self-employed or be offered alternative employment in workers' co-operatives.
Related Internet Links
The BBC is not responsible for the content of external sites.