Giant new drill joins Chile mine rescue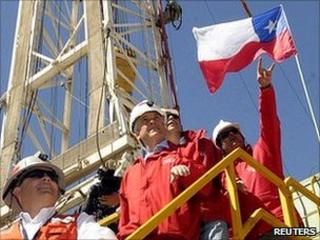 Engineers trying to rescue 33 miners trapped underground in Chile for more than six weeks have begun drilling a third escape tunnel.
A huge drill borrowed from an oil company has joined two others digging through the 630m (2,060ft) of rock separating the miners from the surface.
Chilean President Sebastian Pinera told the trapped men he was confident the rescue effort would succeed.
His government has said it hopes to get them out by early November.
President Pinera, making his fifth visit to the San Jose mine, was accompanied by celebrated Chilean novelist Isabel Allende.
In a video conference, he told the miners he hoped that on his next visit he would be meeting them above ground.
"Today for the first time we have three machines working simultaneously. We do not know when they will reach them. But we know one thing: with the help of God, we will reach them," Mr Pinera said.
"It will be sooner than you expect and it will be a moment of joy, hope and happiness for the whole country and I hope also for the whole world."
Isabel Allende said the miners' epic of survival had captured the imagination of the world.
"I travel throughout the world and on every television screen in the world there are the faces of the 33 miners and there is the name of Chile," she said.
New machine
On Friday one rescue drill completed a 30cm (12in) shaft. But it will take several weeks to make it wide enough to get the men out.
The new drill is much more powerful, capable of cutting through up to 30m of rock a day.
If all goes well, it could be the first to complete a rescue tunnel.
The miners were trapped when the main access tunnel to the San Jose copper and gold mine near Copiapo collapsed on 5 August.
Relatives set up Camp Hope at the pithead when the men were found to be alive, 17 days after the collapse.
The 32 Chileans and one Bolivian have survived longer than any other group trapped underground.
Three bore holes have already reached the men to supply them with food, water and medicine.