Chile president promises Mapuche talks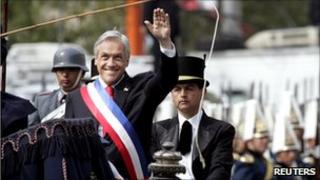 Chilean president Sebastian Pinera has said his government will enter into dialogue with the indigenous Mapuche minority to address their grievances.
Mr Pinera also promised to spend $4bn (£2.6bn) on development in the southern Araucania region, where most of the Mapuche live.
The dialogue is one demand of more than 30 Mapuche activists who are on hunger strike in prison.
Mr Pinera announced the measures during Chile's bicentenary celebrations.
He said a "table of dialogue" bringing together government ministers, Mapuche communities, civil society groups and the Roman Catholic church would begin meeting next week.
But he insisted the hunger strikers did not represent the Mapuche people.
"Let us not confuse the Mapuche people, which is taking part in this bicentenary, with the situation of 34 activists who have chosen the wrong path," Mr Pinera said.
"The country we are building is made with dialogue, unity and work, not with violence and hunger strikes."
Ancestral territory
The Mapuche activists began their hunger strike in protest against being charged under anti-terrorist laws for their role in a land dispute.
Most of them have been refusing food for more than two months, causing them to lose up to 18kg (40lb) each.
They are in jails across southern Chile awaiting trial on charges ranging from arson to armed assault.
But they say they are political prisoners and should not be treated as terrorist suspects or face trial in military courts.
President Pinera has already responded with a bill to modify the anti-terrorism legislation, which was established during the 1973-1990 military rule of Gen Augusto Pinochet.
But the Mapuche prisoners have been demanding deeper reforms, as well as direct dialogue with the government.
The Mapuche are Chile's largest indigenous minority, making up about 5% of the population and based in the south of the country.
In recent years Mapuche activists have blocked roads and staged land occupations to try to reclaim their ancestral territories from farmers and forestry companies.
Some Mapuche leaders say their people have little reason to celebrate the 200th anniversary of Chile's declaration of independence.
But president Pinera insisted that most were joining in.
"There are more than a million Chileans who identify themselves with the Mapuche or other indigenous peoples, and the immense majority of them are celebrating the bicentenary," he said.