Abducted Mexico police found dead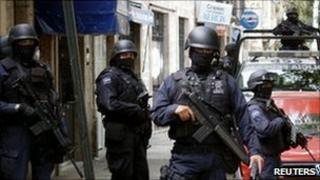 Police in Mexico say eight officers who were abducted by gunmen in the southern state of Guerrero on Friday have been found shot dead.
A ninth member of the unit has been found alive with wounds to his head. The bodies of some of the dead officers are reported to have been mutilated.
The police patrol was investigating a murder when it was ambushed.
Guerrero state has been a focus of the drugs-related violence that has killed more than 28,000 Mexicans since 2006.
The nine agents from the federal investigative police had travelled to the Teloloapan district after a man was reported shot dead.
As they went in pursuit of the suspected killers they were stopped by a large group of gunmen.
Two officers were found shot dead close to where they were abducted. The other six bodies were found about 15km away after a search by police and troops.
Teloloapan is close to the mining town of Taxco, where in May 55 bodies were recovered from an abandoned silver mine that drugs gangs are thought to have been using as a mass grave.
Guerrero state is the Mexico's main opium producing region.
It has also been the scene of a violent struggle between rival drugs gangs for control of smuggling routes to the US along the Pacific coast.