Venezuela's airline halts flights after plane crash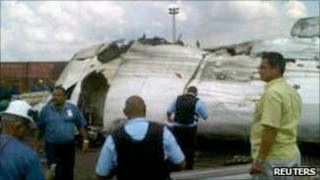 Venezuela's state-run airline Conviasa says it is suspending all its flights after one of its planes crashed earlier this week killing 17 people on board.
Thousands of passengers have been told that they will be given flights with other companies.
Conviasa says the decision to halt flights until October will give it time to carry out a technical audit and a review of its internal procedures.
The plane that crashed in the Bolivar state had 51 people on board.
But 34 people survived the crash.
Conviasa's announcement comes just days after President Hugo Chavez spoke about the disaster on television and called for greater "efficiency" in Venezuelan air transport.
Conviasa, which accounts for just over 20% of Venezuela's internal flights, is the country's only state-run airline which flies to international destinations including Iran, Syria, Cuba and Spain.
The decision to suspend flights until October has caused some confusion at the country's main airport in Caracas, where Conviasa customers complained of a lack of information.
The company says all passengers with flights booked during the period of suspension will travel with other carriers.
However, the company's reputation is being badly damaged, and the suspension comes amid stories in the local media of several recent near-misses on Conviasa flights.