Mexican newspaper photographers attacked by gunmen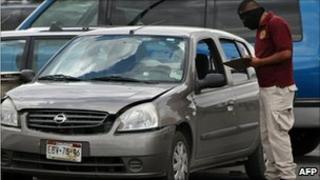 Two Mexican newspaper photographers have been attacked by gunmen in Ciudad Juarez, in northern Mexico.
Police say gunmen shot dead Luis Carlos Santiago and severely injured Carlos Sanchez, who both worked for the local paper, Diario de Juarez.
The newspaper's editor said he did not know why they had been targeted.
The Committee to Protect Journalists (CPJ), a US campaign group, says journalists in Mexico are increasingly being attacked by drug cartels.
According the CPJ, fear of the cartels is leading some publications to stop reporting on drug-related violence.
Newspaper director Pedro Torres told the Associated Press news agency that 21-year-old Mr Santiago and his colleague were driving to lunch when gunmen in two cars intercepted them and opened fire.
Mr Sanchez is in a serious condition in hospital.
Upsurge in violence
According to the CJP, Mexico is one of the world's most dangerous countries for journalists and more than 30 have been killed or have gone missing since President Felipe Calderon launched a military crackdown on organised crime in 2006.
Ciudad Juarez has been the scene of frequent violence.
In 2008, another El Diario de Juarez journalist, Armando Rodriguez, was killed in front of his home in the city, which is close to the US-Mexico border.
The following year the federal agent who had been investigating Rodriguez's death was killed.
In recent weeks there has been a big upsurge in violence in north-eastern Mexico, where rival drugs gangs are battling for control of smuggling routes into the US.
The rising violence has led to growing criticism of Mr Calderon's military crackdown on the drugs cartels. Opposition groups say the crackdown, which began three-and-a-half years ago, has done nothing to stop the flow of drugs to the US.
More than 28,000 people have died in drug-related violence since President Calderon deployed the army against the cartels in 2006. The violence has spilled over into Central America.
However, the president has defended his policy, saying that the rise in violence is a sign that the cartels are becoming more desperate.