Argentina named as biggest football player exporter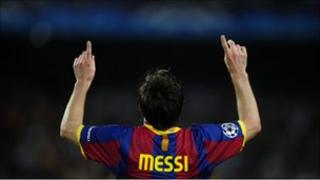 For the first time in over a decade Argentina has become the main provider of professional footballers worldwide.
According to a report from sports marketing consultancy Euroamericas, it has replaced Brazil as the country exporting the most professional players to European and Arab football leagues.
Argentina sold more than 1,700 players last year, almost 300 more than Brazil.
Argentina's trade has grown by almost 800% in five years after European clubs eased restrictions on foreign players.
Last year the football player export business was worth $117m (£74.5m) to Argentina.
A total of 1,716 Argentine players were sold, compared with 1,443 sold by the next biggest provider, Brazil.
Analysts say this is the result of Argentine clubs developing strategies to get funds by selling young players as early as possible in their careers.
Critics say that by selling teenage players before they have even made their local debut will compromise the quality of Argentina's main domestic league in the near future.
But the BBC's Valeria Perasso in Buenos Aires says local clubs have become dependent on the money raised by foreign transfers for paying running costs.
Many of the world's top ranked football players hail from Argentina including the current Fifa World Player of the Year Lionel Messi, who plays for FC Barcelona.