Hurricane Karl weakens to storm in south-eastern Mexico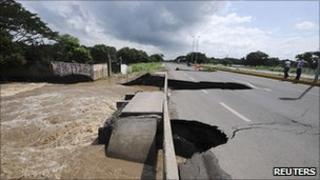 Hurricane Karl has been downgraded to a tropical storm after making landfall on Mexico's southern coast.
At least eight people were killed by Karl, the first major storm of the Atlantic season to hit land.
It pounded the south-eastern port city of Veracruz with heavy rain and moved on through Puebla and Tabasco states.
To the east, a weakened Hurricane Igor has passed narrowly west of Bermuda, causing minor flooding and leaving thousands without electricity.
Karl was downgraded to a tropical storm after its winds fell to about 70mph (112km/h) but still caused serious damage.
At least 30,000 people were displaced by flooding and landslides in Veracruz alone, according to a report from Mexico's Civil Protection Agency.
A state of emergency was declared in 125 municipalities and Mexico's Pemex oil was forced to halt production at 14 offshore wells and evacuate staff.
Near miss
In Bermuda, fierce waves pounded the island's shores on Sunday as the eye of Hurricane Igor passed just 40 miles west of the island.
Flooding was reported in low-lying areas, while streets in downtown Hamilton, the capital, were covered in several inches of water and littered with tree branches and other debris.
Bermuda's power utility reported that roughly 19,500 customers were without electricity by Sunday evening. But there were no reports of major damage of the kind that had been feared last week.
The island's residents had been preparing for the worst after Igor had approached the island pushing sustained speeds of 105mph (169km/h).
But by the time it passed Bermuda, Igor had weakened to sustained speeds of 75mph (121km/h), making it just barely a category one hurricane.
A third simultaneous hurricane, Julia, which is towards the centre of the Atlantic Ocean, has weakened further, with sustained winds of 75mph (121km/h), and is not expected to threaten land.
Severe flooding
The NHC says that Karl hit Mexico's Gulf coast at 1630 GMT on Friday as a category three hurricane with winds of up to 110mph (177km/h).
It was downgraded to category two, then to category one, before becoming a tropical storm.
The Mexican government had issued a hurricane warning for a 186-mile (300km) stretch of coast from Veracruz northwards, but all warnings have now been discontinued.
On Thursday, Karl passed over the Yucatan Peninsula, dumping heavy rain and bringing down trees and power lines.
The state of Veracruz has already experienced severe flooding in recent weeks, as Mexico's rainy season continues.
Nine people in the state have been killed by the floods and the homes of an estimated 80,000 people have been damaged.
Nationwide, 25 people have died and about one million have been affected by the floods.