US jails Guatemalan ex-soldier for hiding massacre role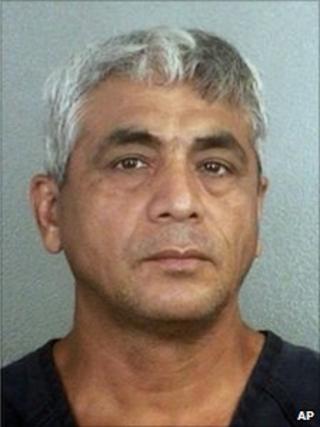 A former Guatemalan soldier has been sentenced to 10 years in prison in the United States for concealing his part in a massacre during Guatemala's civil war when he applied for US citizenship.
Gilberto Jordan failed to reveal his participation in the 1982 killings of at least 162 villagers at Dos Erres.
Jordan admitted throwing a baby down a well during a raid on the village by his elite military unit.
Campaigners in Guatemala want him sent home for trial.
Prosecutors said they were pleased Gilberto Jordan, 54, was given the maximum sentence possible.
He was arrested in Florida in May and charged with immigration offences.
Jordan pleaded guilty to lying on his naturalisation forms, which allowed him to become an American citizen in 1999.
He is believed to have entered the US illegally through Mexico in 1985 before settling in Boca Raton, Florida, where he worked as a cook at a country club.
'Dark past'
Prosecutor Hillary Davidson said Jordan should never have been allowed to live in the US peacefully for as many years as he did.
Jordan's lawyer, Robin Rosen-Evans, said her client had not wanted to take part in the killings but was told by fellow soldiers he would be killed if he refused.
Jordan belonged to a Guatemalan special forces unit, known as the Kaibiles, which the prosecution said murdered the villagers at Dos Erres by shooting them, hitting them on the head with a hammer, or throwing them alive into a well.
Court documents say the unit went to Dos Erres looking for guns seized by left-wing guerrillas during an army ambush.
According to the documents, none of the weapons were found in the village.
In 2000, the Guatemalan government acknowledged responsibility for the killings, and promised to compensate the victims' families.
The massacre was one of the most deadly incidents in the 36-year conflict between the Guatemalan army and left-wing guerrillas, which ended with a peace accord in 1996.