Tropical Storm Karl becomes hurricane over Gulf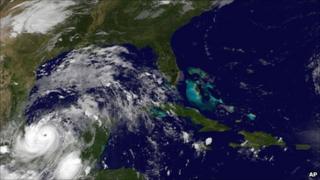 Tropical Storm Karl has been upgraded to a hurricane having gathered strength as it passes over the Gulf of Mexico.
The US National Hurricane Center (NHC) classified Karl as a category two storm after its maximum sustained winds reached 160km/h (100mph).
Before moving into the Gulf, Karl made landfall in Mexico's Yucatan Peninsula, where it downed trees and cut power.
The Mexican authorities have now issued a hurricane warning for 300km (186 miles) of the coast of Veracruz state.
Meanwhile out in the Atlantic Ocean, two more hurricanes are churning, including a powerful category three storm, Hurricane Igor.
Flash flooding threat
The NHC said overnight that Karl was moving toward the northern coast of Veracruz state at 15km/h (9mph), and that the core of the hurricane was expected to make landfall late on Friday.
Its maximum sustained wind speed had risen to 165km/h (105mph) and was expected to increase in the next few hours, possibly reaching the coast as a major hurricane, the NHC added.
When Karl passed over Yucatan as a tropical storm, the sparsely populated peninsula was hit by heavy rain.
The NHC warned that up to 25cm (10in) of rain could fall across the central and southern Mexican Gulf Coast region, causing "life-threatening flash floods and mud slides" particularly in mountainous areas.
The agency also warned that a dangerous storm surge would raise water levels by as much as 2.7m (9ft) above normal tide levels along the coast where Karl makes landfall, accompanied by large and destructive waves.
Twenty-five people have been killed and almost a million people been affected by floods already this month in Mexico, which is in the grips of its annual rainy season. Eighty thousand people have seen their homes damaged.
Following Karl's increase in power, a hurricane warning was issued for Mexico's coast from Palma Sola to Cabo Rojo, and a tropical storm warning issued for the stretch of coast from Cabo Rojo to La Cruz to the north of the storm and from Palma Sola to Veracruz in the south.
"We are getting ready and warning people early, to avoid any loss of human life," Edilberto Peralta, the civil defence director in the town of Tecolutla, told the Associated Press. "We are ready to take drastic measures."
Karl, which is currently located about 155km (95 miles) east of the city of Veracruz, is also threatening to pass very close to Pemex oil company installations, according to the US National Weather Service.
The Mexican state-owned oil operator evacuated workers from 14 oil platforms "as a precaution", and shut down production.
Meanwhile, the NHC has downgraded Igor to a category three hurricane after its maximum sustained winds fell to 205km/h (125mph), while Julia was said to have weakened to a category one storm.
On Wednesday, both Igor and Hurricane Julia were classified as category four storms, the first time in a decade that two have been seen simultaneously. Igor was the most powerful hurricane of the season.
A hurricane watch is in effect for Bermuda, where tropical storm conditions are expected from late on Saturday. The centre of Igor is forecast to approach the island on Sunday, when hurricane conditions are possible.
Puerto Rico, the Virgin Islands and Bahamas are also likely to feel the effects of storm swells by early on Thursday, and the US East Coast by the weekend.
"These swells are likely to cause life-threatening surf and rip current conditions," the NHC warned.