Argentine footballer charged over car crash deaths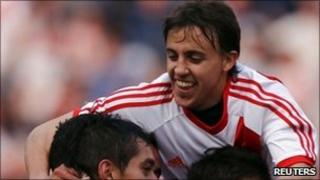 Argentine footballer Diego Buonanotte has been charged with involuntary manslaughter following the deaths of three friends in a car he was driving.
Mr Buonanotte, who is 22 and plays for River Plate, crashed the car in December last year in the north-eastern province of Santa Fe.
Prosecutors say he was driving negligently.
Mr Buonanotte was the only person in the car wearing a seatbelt. He resumed playing in April after recuperation.
If convicted he could be jailed for up to five years.
Mr Buonanotte's three friends were aged 21, 22 and 24 and were from his home town of Teodelina.
He broke his right arm and suffered lung damage.
Prosecutor Carlos Colimedaglia said: "Even though he was not speeding, there are other factors. It's not just speeding that constitutes careless or negligent driving. It was raining heavily."
Mr Buonanotte's lawyers say there is not enough evidence to convict him.
Mr Buonanotte played for Argentina in the 2008 Olympics.