Mexico's top immigration official resigns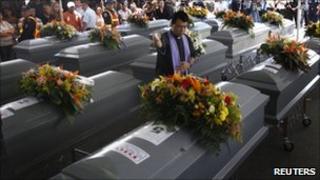 Mexico's top immigration official has resigned, less than a month after the murder by suspected drug traffickers of 72 migrants in the country's north.
Cecilia Romero stepped down as head of the National Institute of Migration, a post she had held since 2006.
The interior ministry did not give a reason for Ms Romero's departure.
But the Senate had summoned her to testify on what measures the National Institute of Migration had taken to protect migrants moving through Mexico.
Senators condemned the massacre in late August of the 58 men and 14 women from South and Central America, who had been trying to reach the US.
They acknowledged that Mexico could not "demand respect for its nationals in the United States" when it "does not assure the dignified treatment" of foreign migrants on its own territory.
Ms Romero, a former congresswoman from the ruling National Action Party, revamped migrant holding centres and ensured that immigration agents were trained in human rights, the interior ministry said.
An unnamed official told the Associated Press that the government was looking for someone with more security experience because of the increasing involvement of drug cartels in illegal migration.
Prosecutors say evidence suggests "very strongly" that members of the Los Zetas cartel had killed the 72 migrants, whose bullet-ridden bodies were found at a ranch in the state of Tamaulipas on 24 August.