Chilean ex-President Bachelet to head UN women's agency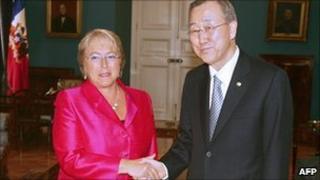 Chile's former President Michelle Bachelet is to head the United Nations' new agency for promoting women's equality.
UN Secretary-General Ban Ki-moon said Ms Bachelet, who stepped down as president in March this year, would head UN Women.
He said she would bring global leadership and stature to the job.
The agency was formed in July of four existing UN bodies dealing with the advancement and welfare of women.
Mr Ban said he wanted the new agency to be a "powerful, dynamic and effective entity".
"I am confident that under her strong leadership we can improve the lives of millions of women and girls across the world."
The UN chief said that creating UN Women had been one of his top priorities since taking office in 2007.