Cuba's Fidel Castro says Nicolas Sarkozy going crazy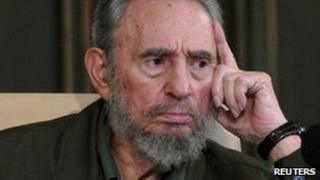 Former Cuban leader Fidel Castro has said French President Nicolas Sarkozy appears to be going "crazy", in an article published in Mexico.
Mr Castro also suggested Mr Sarkozy could not be trusted with his finger on the nuclear trigger.
In the article, Mr Castro denounces Mr Sarkozy for the expulsion of more than 1,000 Roma (Gypsy) migrants, over which France has been widely condemned.
At the weekend, Mr Castro accused Paris of carrying out a "racial holocaust".
In a comment piece published in La Jornada newspaper on Monday, the 84-year-old former leader points out that France is the world's third biggest nuclear power and says Mr Sarkozy carries around a briefcase with the launch codes for an arsenal of more than 300 atomic weapons.
"Suppose that Sarkozy suddenly goes crazy, as appears to be happening. What would the UN Security Council do in that case with Sarkozy and his briefcase?" he says.
In the tirade, entitled The Endless Hypocrisy of the West, Mr Castro adds: "What will happen if the far right forces Sarkozy to hold a racist policy in contradiction with the norms of the European Community?"
He also says: "Does it make any moral or ethical sense to launch an attack on Iran, which is condemned for its supposed intention to make bombs of this type? Where is the sense and logic of this policy?"
"Would the UN Security Council answer those two questions?" he added.
France said the holocaust comments over its expulsion of members of the Roma community were unacceptable and showed Mr Castro's ignorance of history.
On Tuesday, EU Justice Commissioner Viviane Reding urged the European Commission to take legal action against France over the deportations.