Mexico arrests suspected drug kingpin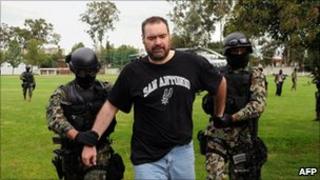 The Mexican authorities say they have arrested one of the country's most wanted drugs traffickers.
Sergio Villarreal - known as "El Grande" - was detained by navy marines in the city of Puebla, east of Mexico City.
He is alleged to be a top lieutenant in the powerful Beltran Leyva cartel.
His arrest comes two weeks after the capture of another drug kingpin, Edgar Valdez, known as "Barbie", who led a rival faction of the same cartel.
The navy said Mr Villarreal was arrested "without a shot being fired" following an intelligence operation.
Two other people who were with him were also detained.
A reward of around $2.3m (£1.5m) had been offered for information leading to his arrest.
His capture will provide a boost for President Felipe Calderon, who has faced growing criticism in recent months from opponents who think his military-led campaign against the cartels is not working.
Power struggle
A former policeman, Mr Villarreal is alleged to have worked for a number of criminal organizations before joining the drugs cartel led by Arturo Beltran Leyva.
Mr Beltran Leyva was shot and killed by the navy last December, sparking a brutal fight for control of the cartel.
Sergio Villarreal is thought to have remained loyal to Mr Beltran Leyva's brother, Hector, while Edgar Valdez, who was arrested on 30 August, led a rival faction.
Drugs-related violence has left some 28,000 people dead in Mexico since President Calderon took office in 2006.