Mass jail break in northern Mexico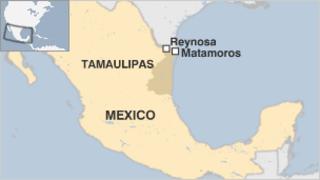 At least 85 prisoners have escaped from a jail in northern Mexico, close to the border with the United States.
Inmates used ladders to scale the fence of the prison at Reynosa in Tamaulipas state before dawn on Friday.
The prison's director and guards are being questioned by state prosecutors, because of suspicions that some may have collaborated in the breakout.
Many of the fugitives are reported to be members of Mexico's violent drug gangs.
This is not the first jail break this year in Tamaulipas state.
Only last month, 40 inmates escaped from a prison in the nearby city of Matamoros.
Widespread corruption
Mexico's prison system is struggling to cope with an influx of violent offenders arrested in the government's campaign against the cartels.
Many prisons are overcrowded and allegations of corruption are widespread.
In July, prosecutors accused prison officials at a jail in Durango state of allowing inmates to leave the prison at night to commit contract killings, even providing them with weapons.
In recent months Tamaulipas has been the scene of bloody clashes between rival drugs cartels fighting for control of smuggling routes into the US.
Last month, the bodies of 72 Central and South American migrants were found at a ranch in the state, after being murdered by suspected cartel gunmen.
The Mexican government says more than 28,000 people have been killed in drug-related violence since President Felipe Calderon took office in December 2006.