Gang strike paralyses El Salvador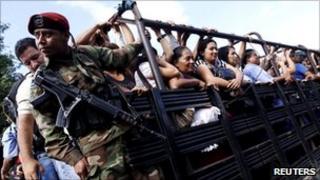 Public transport in El Salvador has been severely disrupted for a third day by a strike enforced by street gangs, angry at a new law making gang membership a criminal offence.
The Mara 18 and Mara Salvatrucha gangs told transport operators to observe the shutdown, or face the consequences.
Thousands of troops have been deployed to protect bus drivers and commuters.
The anti-gang law was introduced in July after gang members set fire to a bus, killing 17 people.
The BBC's Eric Lemus in the capital San Salvador says most bus companies there and across the country appear to have given in to the gangs' threats.
He said about 80% of public transport was suspended, although some private drivers in pick-up trucks had been carrying passengers for much higher fares.
Many businesses also shut down for fear of reprisals after the gangs circulated leaflets telling them to close or "face the consequences".
Police and soldiers have been escorting the vehicles that have been carrying passengers, and the army has also been using trucks to help people get to work.
'State of rebellion'
The street gangs - known as Maras - ordered the shutdown to put pressure on president Mauricio Funes not to sign a new law which would make membership of a gang a criminal offence.
The law, which has been approved by El Salvador's parliament, makes the Mara 18 and Salvatrucha proscribed organisations, and describes them as "social extermination groups".
But Mr Funes said his government would not be moved by intimidation and threats.
"I affirm that I will sign the law," he said on Wednesday.
"We saw this coming. As we close in on them, they are reacting."
Mr Funes says the law is aimed at gang leaders and those who finance them.
Unlike previous anti-crime laws, it includes measures to stop young people joining the gangs and to help them escape from a life of crime.
The protest has extended to El Salvador's prisons, where hundreds of jailed gang members have declared themselves in a "state of rebellion".
Masked gang members interviewed on Salvadorean television said they had called the strike because they felt the government was excluding them from a national debate on how to reduce violent crime.
"We want to start a transparent process of dialogue aimed at finding a solution to the violence," the Mara 18 gang member said.
The gangs also want improved conditions for prisoners.
El Salvador's gangs have their roots in immigrant street gangs of the US.
Over the years they have grown to become powerful trans-national criminal organisations with thousands of members.
They are heavily involved in drug trafficking and extortion, and have a reputation for ruthless violence.
El Salvador has one of the highest murder rates in the world, with around 10 killings a day in a country with a population of just over seven million.