Gunmen attack Honduras shoe factory, killing 18 people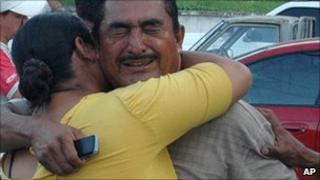 Gunmen armed with assault rifles stormed a shoe factory in Honduras, killing at least 18 people and wounding several others, police said.
At least four men burst into the factory in the northern coastal city of San Pedro Sula and opened fire on workers, officers said.
Fifteen people died at the scene and three later died in hospital.
Police said the motive was not yet clear but the attack could be linked to a gang rivalry or a dispute over drugs.
San Pedro Sula has suffered frequent gunbattles between drug traffickers and also among the country's notorious street gangs.
All the victims were said to be young men, aged between 17 and 24.
The factory is in the south-west of San Pedro Sula, which is about 245km (150 miles) north of the capital, Tegucigalpa.
"Apparently the murder was carried out as part of a turf battle between small-scale drug gangs, given that the neighbourhood has conflicts because of the presence of gang members," said the city's police chief, Hector Ivan Mejia.