Nasa gives psychological tips to trapped Chilean miners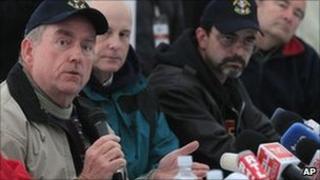 Experts from America's space agency Nasa have been speaking about tips they gave 33 trapped Chilean miners to keep up their psychological health.
They said they advised the miners - trapped at the San Jose mine since 5 August - to regulate the number of times they spoke to their families.
The experts also said the miners should form an "underground community".
In the latest attempt to maintain morale, the miners watched a live feed of the Chilean football team in action.
Rescues dropped a mini-TV screen connected to a fibre-optic cable down the narrow supply chute - the only link the miners have with the outside world.
However, Chile lost their match against Ukraine in Kiev 2-1.
Meanwhile, engineers are continuing to drill two rescue tunnels to try to reach the miners trapped at 700m (2,300ft) below the ground. The work is expected to take between two and four months.
'Dynamic situation'
After visiting the mine, Nasa experts said they advised the miners to form an "underground community" as they faced a "long period of time" before they could be rescued.
"It's going to be a group of people that live underground for a long period of time and there will be roles and responsibilities that are allocated and just like topside, just like us, sometimes if we tire of our role or we need a change then we are able to swap with someone else, rotate out, and they will be doing that as well," Nasa psychologist Albert Holland said at a news conference in Houston.
"So, organisation and focus is a big part of normality, it's a big part of social structure and community. And, we have to expect though, that they are going to have their ups and downs, just like we do," he added.
Dr Michael Duncan, the head of the Nasa team, warned that "this is going to be a very dynamic situation for a long period of time and I am sure they will have questions and want to bounce ideas off of us, some things that we have learned".
"Really the work is just beginning when the miners come out of the mine, because there is a lot of rehabilitation and recovery that the miners will have to go through.
"There is the reintroduction of the miner to the family; there's the reintroduction of the miner to society.
Dr Duncan also warned that the miners - who will have "a certain celebrity status in Chile" - would also face a lot of pressure by society and the media after the rescue.
"I think the Chileans had not gotten to that point of thinking how difficult this post rescue effort is going to be."
The Nasa experts also said that their participation in the rescue and rehabilitation effort might produce benefits for future space missions.
The miners have become national heroes in Chile since 22 August, when a drill probe reached the underground shelter where they had survived for 17 days without contact with the outside world.
Many had given them up for lost, but they had kept alive underground by rationing emergency food supplies.