Mexico oil refinery explosion kills one and injures 10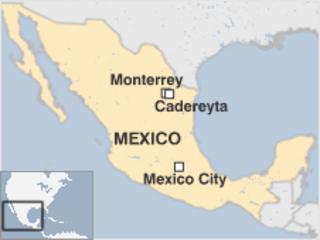 An explosion at one of Mexico's largest oil refineries has killed one worker, the country's state company Pemex says.
Ten more workers were injured in the blast in the Cadereyta refinery in the northern state of Nuevo Leon, the company said.
Cadereyta is Mexico's third-largest refinery and regarded as the country's most sophisticated.
Pemex said it was investigating the cause of the accident, which happened when a hydrogen compressor exploded.
The fire caused by the blast had been brought under control by company firefighters, the company added.
Two of the workers were in a serious condition, Pemex added.
Mexico is a major exporter of oil. However it has to import about 40% of the petroleum used in the country because of a lack of refining capacity.