Mexico begins inquiry after soldiers fire on family car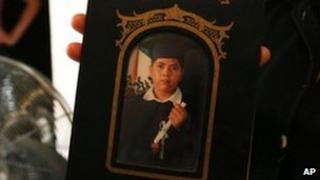 The Mexican army has launched an investigation after soldiers opened fire on a family's car, killing a 15-year-old boy and his father.
Officials said troops shot after the car failed to stop at a checkpoint in Nuevo Leon state.
But other relatives said the soldiers had not asked them to stop.
Human rights groups are concerned civilians are being caught up in the military response to the violence waged by feuding drug gangs.
The family was driving on a motorway outside the city of Monterrey in northern Mexico when the shooting happened.
The father and his son were shot dead, and five other people were injured.
In a statement, the Mexican defence ministry expressed its condolences to the family and said an inquiry was being set up to establish what had happened on Sunday.
The statement said that checkpoints were used with the aim of tackling organised crime in areas of high levels of violence.
Military courts
Nuevo Leon has seen a flare-up of violence in recent months, with the Gulf and Sinaloa cartel battling a rival gang, the Zetas.
Since late 2006, Mexican President Felipe Calderon has deployed some 50,000 troops to tackle the drug cartels.
The National Human Rights Commission (CNDH) has called on the government to investigate alleged abuses by troops.
Luis Arriaga, director of the Miguel Agustin Pro Juarez human rights centre, told BBC Mundo that one of the problems was that the army, rather than civilian courts, investigated allegations against soldiers.
"Military justice is not the most appropriate to judge human rights violations. A military court allows troops to judge themselves, meaning the victims do not have access to an independent and impartial court."
Last week, the US state department said it was releasing $36m that had been contingent on Mexico's human rights record to help the country's anti-drugs efforts.
However, a further $26m is being frozen in the hope of further progress.
The money is part of the Merida Initiative, a three-year, $1.4bn programme to help Mexico and Central American nations tackle drug-trafficking organisations.
The Mexican government said it was working to improve human rights.
But in a statement, it stressed that the Merida Initiative was based on "shared responsibility, mutual trust and respect for each country's jurisdiction", not on unilateral evaluation and "conditions unacceptable to the Mexican government".