Hopes fade for Guatemala landslide victims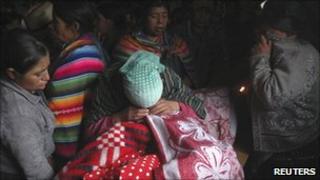 Guatemalan officials say they have given up hope for dozens of people buried when a landslide engulfed a highway north-west of the capital.
The mud crashed onto the road as a crowd tried to dig out vehicles buried by a previous landslide.
President Alvaro Colom has called the landslides a "national tragedy".
So far 38 people are known to have died but with scores of landslips across the country, there are fears the final number of dead will be much higher.
Emergency workers have recovered 20 bodies from the massive landslide that engulfed people as they tried to dig out people caught in an earlier landslide on the Inter-American Highway north-west of Guatemala City.
"The mountain was making a noise like an earthquake, but people wouldn't leave," a police officer, Pascual Tuy, told the Associated Press, saying he tried to shout a warning as the hillside began crumbling.
Civil defence director Sergio Cabanas told the BBC that rescue efforts were suspended on Sunday amid fears of further mudslides triggered by weeks of heavy rain.
"We have given up for dead all those trapped in the mud," he said, adding that the authorities were now focusing on bringing in heavy equipment to clear the roads.
Weeks of heavy rain have saturated Guatemala's mountainous terrain, causing hillsides to collapse suddenly.
Parts of the country have seen the heaviest rainfall for half a century, according to Guatemala's national meteorological institute.
The Central American nation was still trying to recover from the effects of a tropical storm that left 165 people dead in May.
President Colom, who has declared a state of emergency, said the latest rains had undone all the reconstruction work done since then.
"It's painful that poor people always pay the price of natural disasters," he said.
More than 100km (65 miles) of the Inter-American Highway has been closed to traffic.
Several hundred bridges across the country, including the main bridge between Guatemala and Honduras, have been damaged.