Guatemala ex-president Portillo on trial for corruption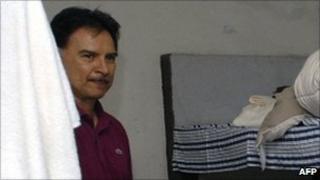 Former Guatemalan President Alfonso Portillo has gone on trial on charges of embezzling millions of dollars in public funds between 2000 and 2004.
Mr Portillo, 58, is also wanted in the US for allegedly embezzling foreign donations for education projects.
During his time in office, Mr Portillo promised to campaign against corruption and impunity in Guatemala.
Mr Portillo fled to Mexico shortly after leaving office six years ago but was sent back to Guatemala in 2008.
The former president has said he fled because he could not get a fair trial in Guatemala.
Guatemalan prosecutors allege he transferred $15m (£9.7m) from the defence ministry to personal bank accounts in the US and Europe.
'Personal ATM'
He was released on bail after his return to Guatemala in 2008, then rearrested last January as he tried to leave the country by boat after the US requested his extradition.
The US authorities have accused him of transferring money that had been donated to Guatemala to buy school text books into foreign bank accounts.
Prosecutors in New York say he turned the Guatemalan presidency into a "personal ATM" (bank machine).
He is also being investigated in France for alleged money-laundering.
Under Guatemalan law, Mr Portillo must be tried in his own country before being extradited abroad.
The former president has denied any wrong-doing, and has dismissed the charges against him as political.