Fidel Castro addresses first rally in four years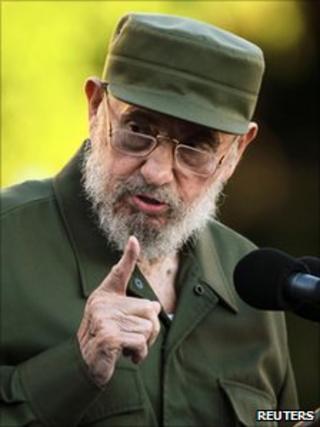 Fidel Castro has addressed a rally for the first time since handing control of the government to his brother Raul in 2006.
In a speech at Havana University, he warned of nuclear war arising from the dispute that has pitted the US and Israel against Iran.
Some 10,000 people gathered to listen to the 84-year-old former president.
His speech was the latest in a string of appearances since he re-emerged in July from seclusion after surgery.
Last month, Mr Castro spoke briefly at a session of the National Assembly, urging the US to prevent a "nuclear holocaust".
Victory 'possible'
Speaking from the same steps where 60 years ago he urged fellow students to rise up against the Batista regime, Mr Castro attacked the US for creating a "system that threatens the survival of humanity".
"The problem of people today, the more than seven billion human beings, is to prevent such a tragedy from happening," he said.
"In this, as in many struggles in the past, it is possible to be victorious."
The crowd shouted "Fidel, Fidel, Fidel" and applauded at several points during the nationally televised address.
"This is a historic act," student Jose Gonzalez Abreu told the Reuters news agency afterwards. "Maybe he's preparing to return to the kind of big, historic speeches he gave before he fell ill."
Mr Castro said he "never thought" that he would be able to address another rally because of his health problems. Despite his apparent recovery, the event was held early in the morning "before the sun is too hot", he said.
The return of the leader of the revolution, who remains first secretary of the Cuban Communist Party, has ignited widespread speculation that he is seeking to be more active again in the day-to-day running of the country.
But he has stayed out of domestic politics, making no comments at all about his younger brother's economic changes or the release of political prisoners.