Colombian troops storm rebel camp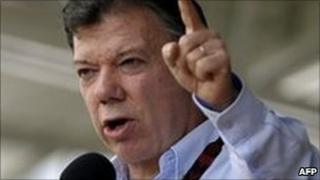 Colombian security forces say they have killed at least 11 left-wing rebels in a clash near the Venezuelan border.
The army said troops backed by planes and helicopters captured a camp belonging to the ELN - the smaller of Colombia's two guerrilla groups.
The fighting occurred near Saravena, in the eastern Arauca region.
It came a day after the authorities confirmed that 14 policemen had been killed in an ambush in the southern region of Caqueta.
A police convoy was hit by roadside bombs and gunfire, leaving some officers trapped inside a burning vehicle.
The ambush has been blamed on the larger rebel group - the Farc - which has been resisting an offensive by government forces in Caqueta, one of its main strongholds.
"National heroes"
It is the worst attack since President Juan Manuel Santos took office last month.
He asked Colombians to observe a minute's silence for the dead policemen, and went to Caqueta with his top military commanders to discuss how to improve security there.
"My heart goes out to the families of these national heroes who died carrying out their duty," he said.
Farc leaders issued a call for peace negotiations before Mr Santos was inaugurated.
But Mr Santos has said that he is only prepared to talk to the rebels if they release all of the hostages they hold and stop attacks.
He has also rejected a proposal by the ELN for foreign mediation in Colombia's conflict.
Both rebel groups suffered major setbacks during the presidency of Mr Santos's predecessor, Alvaro Uribe, who made the fight against the guerrillas his top priority.