Ecuador and Honduras in row over migrant massacre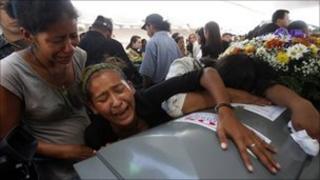 Honduras has called Ecuador President Rafael Correa "irresponsible" for revealing that a second person survived a massacre in Mexico last month.
Honduran Foreign Minister Mario Canahuati said Mr Correa had risked the life of the survivor, a Honduran.
The person has been under witness protection since the massacre, in which 72 migrants were killed near Mexico's US border, allegedly by a drugs gang.
Ecuador has dismissed the criticism as unacceptable.
Until Tuesday, just one survivor of the massacre was known to the public - Freddy Lala Pomavilla, a teenage Ecuadorean who alerted the authorities to the atrocity.
But Mr Correa revealed on Tuesday that Mr Lala had told the authorities that another person had survived.
Ricardo Najera, from the Mexican Attorney General's office, later confirmed Mr Correa's statement, adding that the second survivor was unhurt and had offered "important information" on the attack.
Mr Lala has already told officials how the notorious Zetas drug cartel had captured them in Tamaulipas state.
The authorities suspect that the Zetas killed the migrants after they refused to smuggle drugs into the US.
Victims repatriated
Mr Canahuati said the Honduran witness was in an "extremely delicate" situation.
"He says he is at great risk and in fear of his life," said Mr Canahuati.
"We regret the president of Ecuador gave out this information irresponsibly, and didn't take into account the risk to the Honduran's life."
The Ecuadorean government responded angrily to the criticism, stressing in a statement that the Mexican authorities had confirmed what Mr Correa had said.
The statement went on to say that Tegucigalpa had criticised Ecuador not out of concern for the witness, but because Quito had refused to recognise Honduras's government.
Many Latin American countries refuse to deal with Honduras, to protest against the removal of its previous president last year.
The massacre, which was discovered on 24 August, provoked outrage across the continent, with Latin American countries demanding better protection for migrants who travel thousands of miles in the hope of escaping poverty and working in the US.
The Mexican foreign ministry said on Wednesday that the bodies of 16 Hondurans killed in the massacre had now been returned to their home country.
Other victims so far identified include 13 people from El Salvador, five Guatemalans and a Brazilian.