Mexico 'drug kingpin' Edgar Valdez confesses on video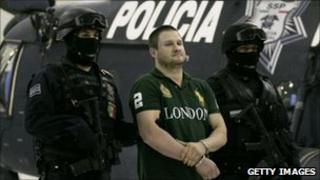 US-born suspected drug kingpin Edgar "Barbie" Valdez has admitted to being involved in the drugs trade, during an interrogation filmed by Mexican police.
He says he took orders from no-one, but claims to know personally many of Mexico's most feared cartel bosses.
He also revealed that he protected the man suspected of shooting a Paraguayan footballer in Mexico City in January.
Mr Valdez, arrested on Monday, faces numerous drug-trafficking charges in Mexico and the US.
Officials are portraying his capture as a major coup for President Felipe Calderon, who has focused on the fight against the cartels since he came to power in 2006.
The battle against the gangs has left some 28,000 people dead in the past four years.
Footballer attack
Mr Valdez, 37, who was born and raised in Texas, was paraded before the media on Tuesday - along with assault rifles, grenade launchers and other weapons the police said he owned.
Later, police released a two-minute video of his interrogation, during which they asked him about his connections in the criminal underworld.
"I have always worked alone... I took orders from no-one," he said, but admitted that he worked in the drugs trade.
He also claimed to be personal friends with Jose Gerardo Alvarez Vazquez, another suspected cartel leader arrested in April, and said he personally knew many of Mexico's other gang bosses.
He then admitted to protecting the man suspected of shooting Paraguayan international footballer Salvador Cabanas during a row in a Mexico City bar in January.
He said the footballer and his alleged attacker, identified as Jorge Balderas Garza, had been friends but had argued on the day of the shooting.
Mr Cabanas survived the shooting but still has the bullet lodged in his head; he has told officials he has only vague memories of the attack.
Mr Garza, also known as JJ, has not yet been tracked down by the police.
Meanwhile, the authorities in Colombia announced late on Tuesday that they had arrested a group of suspected traffickers with links to Mr Valdez.
Gang war
Mr Valdez is said to have risen to prominence as the security guard of cartel leader Arturo Beltran Leyva.
Mr Beltran Leyva was shot and killed by security forces last December, sparking a brutal fight for control of the gang between Mr Valdez and Mr Beltran Leyva's brother, Hector.
Earlier this month, police found four decapitated bodies hanging from a bridge in the city of Cuernavaca; their heads were discovered nearby with a message warning that anyone supporting Edgar Valdez would risk a similar fate.
Mr Valdez has been charged with distributing thousands of kilograms of cocaine in eastern US between 2004 and 2006.