Venezuelan anti-Chavez hunger striker dies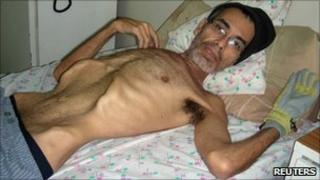 A Venezuelan farmer has died after spending five months on hunger strike in protest at the government's land policies, his family has announced.
Franklin Brito said his farm had been expropriated as part of the government's policy of redistributing land to the poor.
The 49-year-old said he had received no compensation for the lost land.
Venezuelan officials had denied seizing the land, and accused the opposition of trying to exploit his case.
In a statement, Brito's family called for the Venezuelan people to continue their struggle for "freedom".
"Franklin Brito's body became a symbol for all struck by the arrogance of power, for those offended by the arrogance of the rulers," the family said in its statement.
El Universal newspaper reported that doctors told his family that he had died of a heart attack on Monday.
Last year, an estimated 5,000 sq km (1,930 sq miles) of farmland that was previously in private hands was seized and redistributed.
The government says the policy aims to reverse long-standing injustices.