Profile: Edgar Valdez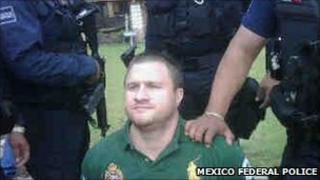 Edgar Valdez, who was arrested by Mexican police on 30 August, is alleged to be one of the country's most powerful drug traffickers.
Known as "the Barbie" because of his fair complexion, the Texas-born Mexican has a brutal reputation.
Aged 37, he is believed to command the armed wing of the Beltran Leyva drug cartel, which has controlled trafficking in stretches of land along Mexico's Pacific Coast.
Recently, he is said to have been locked in a violent struggle to gain control of the organisation.
Also known as "El Comandante" and "El Guero", Mexican officials say he has connections with criminals across South and Central America.
Born in Laredo, Texas, Mr Valdez has been charged with distributing thousands of kilos of cocaine in the eastern US between 2004 and 2006.
US authorities had offered $2m (£1.3m) for information leading to his arrest.
'Switched allegiances'
Mr Valdez is reported to have moved to Mexico after years of dealing drugs in the US.
He is said to have served as a bodyguard to Joaquin "El Chapo" Guzman, Mexico's most-wanted drug lord and the head of the Sinaloa cartel.
After falling out with El Chapo, he allegedly changed allegiances to join the Beltran Leyva brothers.
He has apparently been trying to fight his way to the top of their cartel since authorities shot dead its then-leader, Arturo Beltran Leyva, in December - a major blow in the Mexican government's war against drug traffickers.
Mr Valdez began fighting Arturo's brother, Hector, for control of the group, Mexican officials say.
The contest is blamed for exacerbating the bloodshed in central Mexico, causing it to spread towards the resort city of Acapulco.
The US state department calls Mr Valdez "the person most responsible for pushing the battle into central and southern Mexico".
Much of the recent fighting there is believed to be the result of a campaign to bring down Mr Valdez's allies.
Earlier this month, police found four decapitated bodies hanging from a bridge in the city of Cuernavaca. Their heads were discovered nearby with a message warning that anyone supporting Mr Valdez would risk a similar fate.
Mexico's public safety department said the arrest was the result of a year-long intelligence operation.
It was welcomed by Mexican President Felipe Calderon, who sent a message on Twitter calling him "one of the most-wanted criminals in Mexico and abroad".