Last surviving player from first World Cup final dies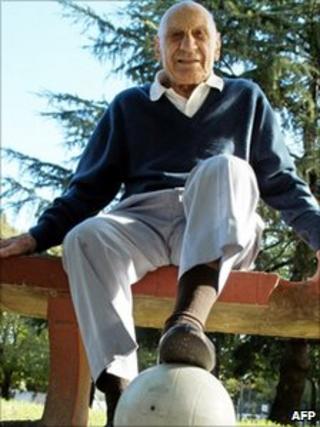 The last surviving player from the first World Cup final, Francisco Varallo, has died in Argentina at the age of 100 .
Varallo played in the final between Uruguay and Argentina in Uruguay capital Montevideo in 1930.
His team lost the match 4-2 to Uruguay.
Mr Varallo scored 194 goals for his club Boca Juniors, a team record that was only broken this year by the current striker, Martin Palermo.
His nickname was "Canoncito" (little canon) for his powerful shot.
In an interview with Fifa to mark his 100th birthday this year, Varallo said the loss to Uruguay in 1930 was his greatest disappointment.
"With all due respect for my teammates, we weren't gutsy enough," the former footballer said.
"How I cried that day. Even now when I look back it still makes me angry."
Varallo retired as a player due to injury at the age of 30 to work as a coach with Boca's lower division teams and with the club Gimnasia.