Mexico migrants victimised by drug cartels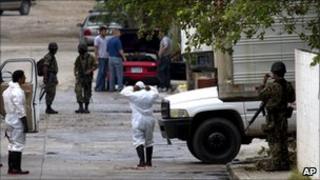 The discovery of 72 dead bodies in north-eastern Mexico this week has highlighted an under-reported but highly profitable business: the kidnapping of illegal migrants by drug cartels in Mexican territory.
Migrants, mostly from Central and South America, cross Mexico's southern border on their way to the United States.
They travel barely carrying any belongings. And yet, they have become targets for drug traffickers, who kidnap them, extort from them - and their families back home - and, in some cases, force them to join their ranks.
Over a period of six months in 2009, the independent Mexican National Human Rights Commission registered 10,000 kidnappings of illegal migrants in Mexico.
The money and forced labour that emerge from the kidnappings are crucial to the cartels' operations, says Alejandro Solalinde, a Catholic priest and migrant rights activist based in the southern Mexican state of Oaxaca.
"Migrants are poor, some of them uneducated and they are good-hearted people: criminals take advantage of that," he told the BBC.
Financing the business
The National Human Rights Commission reports that "the frequency and magnitude of the kidnapping of migrants involves a criminal activity of enormous proportion, and it generates high profits for crime organisations".
In the six-month period studied by the Commission, the revenue for the kidnappers was an estimated $25m.
Mr Solalinde, who also runs a shelter for migrants in Oaxaca, says that criminals steal "today's, yesterday's and tomorrow's money" from the victims.
Today's, he explains, because they take away the cash that migrants carry with them - often borrowed, in order to pay for the expenses they incur on in their way into US territory, like the payments to human traffickers known as "coyotes."
Yesterday's money, because they demand ransoms that are usually paid from savings, both of the migrants and of their friends and relatives, either in their country of origin or those already in the US.
And tomorrow's, he adds, because kidnappers sometimes carry on with the extortion for an extended period, obtaining monthly payments for a future release that may or may not happen.
Easy prey
Kidnappers also put captured migrants "in a situation of forced labour, of slavery," crime expert Samuel Gonzalez Ruiz told the BBC.
Because they are in Mexican territory illegally, they are very vulnerable and at the same time easy to dispose of without consequences once they are no longer necessary.
Many Central American kidnap victims are even used to batter and ill-treat their compatriots, reports Mr Solalinde.
Stories of migrants who have become cooks, cleaners or guardians for the cartels abound.
Kidnapped migrants are also used for drug smuggling and even to attract new victims at the refuges run by religious or civil organisations.
And the fear of being deported silences them.
'Shocking'
The Mexican government has expressed concern about this problem.
It says it has already taken measures to combat it, including the firing of some local public officials who are accused of connivance with the criminals in orchestrating the kidnappings.
And while authorities have not validated the figures from the Commission - arguing that the research method was designed to create awareness about this problem rather than to measure it accurately - civil and human rights organisations fear the reality could be even worse.
Cartels are said to have developed effective techniques to dispose of their victims' bodies, including their incineration or burial in mass graves.
"There are no figures, no reliable numbers about how many migrants have been kidnapped and murdered in Mexican territory," says Pablo Martinez, spokesman for Sin Fronteras, a migrant rights organization.
Mr Solalinde agrees, saying that real figures would be "shocking and make us shiver".
Many in Mexico wonder what would have happened to the 72 migrants found dead this week, if the injured Ecuadorean who escaped the massacre in the state of Tamaulipas had not been able to alert the authorities.
"They would have been regarded as disappeared, and their families back home would never have heard from them again," Mr Solalinde concludes.