Murdered bodies found in Mexico 'were migrants'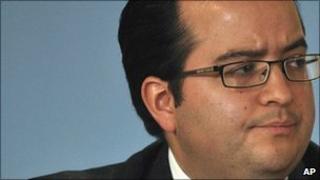 Mexican officials investigating the death of 72 people found murdered at a ranch in the north of the country say they were migrants trying to reach the United States.
They say the 58 men and 14 women had come from South and Central America.
Their bodies were found on Tuesday, after a shoot-out between suspected drug traffickers and security forces.
One of the surviving migrants told police the group had been kidnapped and killed by an armed gang.
The unnamed witness told Mexican officials that he had come from Ecuador, while others in the group were from countries including El Salvador, Honduras and Brazil.
He said the migrants were shot after refusing to work for the gang. He had been injured but managed to escape and alerted marines at a nearby checkpoint.
The military sent troops to investigate. When they arrived, the gang reportedly opened fire.
The victims' identities and nationalities have not been confirmed, but at a news conference officials said they had been in contact with various embassies.
'Outrageous'
Alejandro Poire, from Mexico's National Security Council, condemned the killings.
"This is an extremely serious and absolutely outrageous event which demands the unanimous condemnation from society and authorities," the government security spokesman told journalists.
The marines had found the bodies in a room, some piled on top of each other, he said.
The BBC's Julian Miglierini in Mexico City said the deaths highlight the two biggest challenges facing Mexico - the struggle against the drugs trade and illegal migration.
Miguel Molina, a Mexican affairs analyst, told the BBC that migrants from South and Central America are a frequent target for criminal gangs.
"They carry fairly large amounts of cash with them, in order to pay for the transport and every expense they need to make to reach the border," he said.
"All the drug cartels operating in Mexico also have a role to play in the kidnappings of illegal immigrants and otherwise regular people."
Tamaulipas state - where the incident occurred - has been the scene of fierce fighting between the Zetas and Gulf cartels.
In recent months an increasing number of mass graves have been discovered in various parts of the country.
In June, police recovered 55 bodies from an abandoned mine near Taxco, in Guerrerro state.