Fidel Castro set to address Cuba national assembly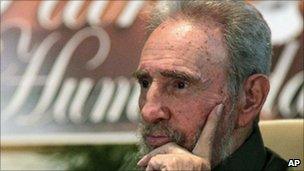 The former Cuban president, Fidel Castro, is expected to address the national assembly this weekend for the first time in four years.
Cuban state media said a special session of the assembly on international affairs, requested by Mr Castro, would be held on Saturday.
Fidel Castro, 83, ceded power to his brother Raul in 2006 after falling ill.
But he now says he has fully recovered and has made frequent public appearances over the past month.
The official announcement of the special parliamentary session does not mention Mr Castro by name, or say who will be speaking.
In recent speeches Fidel Castro has warned against what he sees as the danger of imminent nuclear war involving the United States, Israel, Iran and North Korea.
On Tuesday he made a direct appeal for world peace to US President Barack Obama.
"You should know that it is in your hands to offer humanity the only realistic possibility of peace," he said.
Mr Castro's apparent recovery has surprised many in Cuba, and fuelled speculation that he may once again be exerting a strong influence on government policy.
Supporters of reform fear he may be blocking reforms aimed at reviving the communist island's struggling economy.
But he has not so far appeared alongside his brother, Raul, and has not yet commented on domestic affairs.
For his part, Raul Castro, 79, has dismissed any suggestion that there is a divide in the communist party leadership over the direction of policy.