Everglades and Madagascar forests on Unesco danger list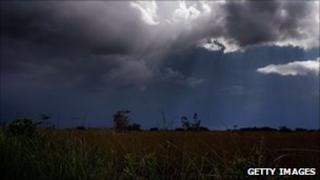 A UN panel has added Florida's Everglades National Park and Madagascar's tropical rainforest to a list of world heritage sites at risk.
Unesco's World Heritage Committee said development in the Everglades had caused water flow to fall 60% in the wetland, a major wildlife sanctuary.
The pollution level there was so high it was killing marine life, it added.
Illegal logging and poaching following last year's military coup has meanwhile imperilled Madagascar's rainforests.
On Thursday, the committee voted to remove the Galapagos Islands from the at-risk list, saying Ecuador had made significant progress protecting its ecosystem.
Unique species
At a meeting in Brazil, the Unesco panel said the Everglades had been added to the List of World Heritage in Danger at the request of the US government because of "serious and continuing degradation of its aquatic ecosystem".
Agricultural and urban development were the main reasons for the decrease in water flow and increase in pollution levels, Unesco said.
It is the second time the Everglades, home to 20 endangered species, have been added. The wetlands were first classified as at risk between 1993 and 2007 after being devastated by Hurricane Andrew.
"We commend the USA's request to re-inscribe the site on the danger list, and its plans for major infrastructure overhaul to restore the Everglades's fragile wetland ecosystem," said Mariam Kenza Ali of the International Union for Conservation of Nature (IUCN).
The Atsinanana rainforests of Madagascar, which lie within six national parks in the east of the island, were put on the list because of the threat to the many unique species inhabiting them, especially primates and lemurs.
"In adding this site to the danger list, we are calling for international action to halt illegal logging and to also ensure that no illegally logged precious woods from Madagascar enter national markets," said Tim Badman, head of World Heritage at the IUCN.