Cuba dissident Guillermo Farinas released from hospital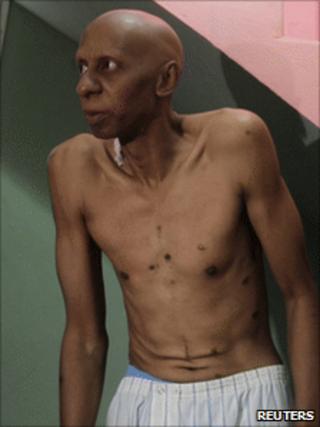 Prominent Cuban dissident Guillermo Farinas, who recently ended his four-month hunger strike, has been released from hospital.
Mr Farinas, 48, began his protest in February to demand the release of imprisoned opposition activists in poor health.
He called off his hunger strike earlier this month following the decision by the Cuban government to free 52 dissidents.
Doctors said he had been near death.
Mr Farinas, a journalist and psychologist, said his goal now was to continue writing articles.
He told the EFE news agency it felt strange to be back home, but that he was adapting and felt happy to be able to hug his daughter and sister.
'Slow recovery'
He began his fast after dissident Orlando Zapata Tamayo died following an 85-day hunger strike in February.
Mr Farinas, whose health had seriously deteriorated during his hunger strike, will have to use a wheelchair until doctors allow him to start physiotherapy so he can slowly start walking again.
He started eating again on 8 July, after the Cuban government agreed to free 52 dissidents under a deal with the Catholic Church and Spain.
The 52 are part of a group of 75 opposition activists who were arrested in 2003 and sentenced to jail terms of between six and 28 years.
While their supporters have welcomed plans of the release, they have pointed to the 115 activists who they say are still jailed.
Cuban officials earlier this month said they were prepared to free more dissidents but did not release any further details.