Paraguay rebel dies in shootout, officials say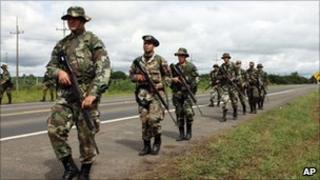 Paraguayan police have shot dead a leader of a small rebel group accused of a number of murders and kidnappings, officials say.
Severiano Martinez died in a clash with officers in the north of the country, they said.
He was said to be a leader of the Paraguayan People's Army, said to number about 100 members.
In April, President Fernando Lugo sent troops and extra police to northern Paraguay to track down the rebels.
Police located Mr Martinez in a wooded area in the northern Chaco region that borders Bolivia, officials said.
"They gave him a warning and he responded by firing at the officers, which in turn led to an exchange of fire," Interior Minister Rafael Filizzola told a news conference on Wednesday.
The reputed rebel was accused of involvement in the kidnapping and murder of the daughter of the country's former president, Raul Cubas, in 2004.
Earlier this year, police and soldiers were granted special powers to arrest suspects without a warrant as part of efforts to find the rebels.
The measure had had little success until now.
"We will continue our efforts to capture all members of this armed group," Mr Filizzola said.