Unasur addresses Venezuela's rift with Colombia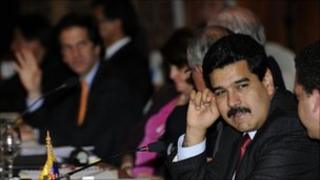 Venezuela and Colombia have traded accusations at the start of a meeting of South American foreign ministers.
Venezuelan Foreign Minister Nicolas Maduro said on arrival in Quito that he wished to respond to the "grave threats and grave attacks" on it by Bogota.
His Colombian counterpart, Jaime Bermudez, meanwhile repeated a claim Caracas was sheltering rebel groups.
The regional grouping, Unasur, called the meeting after Venezuela broke off relations with Colombia over the row.
It comes just days before Colombia's new president, Juan Manuel Santos, is due to take office. He was elected to succeed Alvaro Uribe in June.
'Manipulation and lies'
Ties between Colombia and Venezuela have long been tense, but they hit a new low earlier this month when Colombia presented what it said was evidence that 1,500 members of the Revolutionary Armed Forces of Colombia (Farc) and National Liberation Army (ELN) were operating inside Venezuela.
The left-wing rebel groups, which joined forces in December, have been fighting the Colombian authorities since the 1960s.
Colombia's accusation drew an angry denial from Venezuela, with President Hugo Chavez denouncing it as a pretext for "armed aggression".
On arrival in Ecuador on Thursday for the meeting of the Union of South American Nations (Unasur), Mr Maduro accused President Uribe's government of "slander, manipulation and lies" but offered his successor a new start.
"The hour has come to retake the paths of peace in Colombia, to construct a plan - a methodology - and to construct the path for a just, necessary peace that is yearned for by all of our sister country, Colombia, and for which all South American countries yearn for," he said.
"So we come to expose, to denounce, the aggressions of the outgoing Colombian administration and to propose ideas to retake the path of peace."
Mr Bermudez said he would appeal to the other ministers for help in preventing Colombian rebel groups from taking refuge abroad.
"Colombia comes with a clear willingness to ask for an efficient co-operation mechanism so that neither the Farc nor the Eln, nor any criminal group can be present in Venezuelan territory, with the collusion of the authorities, or in any part of the world," he said.
The issue over whether Venezuela has rebels on its territory has dogged ties between the two South American nations for the past eight years.
Ecuador's Foreign Minister, Ricardo Patino, met Mr Maduro and Mr Bermudez before opening the meeting and stressing the desire of all Unasur members for a peaceful solution to the dispute.
Mr Santos has indicated that he wants better relations with Caracas.