Four journalists missing in Mexican state of Durango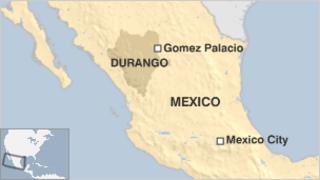 Four journalists have gone missing in the north Mexican state of Durango, a human rights body says.
The four had been covering protests at a prison in Gomez Palacio, Mexico's National Commission for Human Rights said.
Inmates there have been protesting at a report that accused the jail's director of releasing inmates to carry out drug-related killings.
At least nine journalists have been killed in Mexico so far this year.
The Inter-American Commission on Human Rights says several more have also been kidnapped.
'Picked up'
Three of the missing journalists were "picked up" at about midday on Monday and the fourth vanished later that night, the state-run National Commission for Human Rights said.
The four - two cameramen from the Televisa network, a reporter for Multimedios TV and a reporter for the newspaper El Vespertino - were taken in the Laguna region, which includes Durango and parts of the neighbouring state of Coahuila.
"The lack of investigation into attacks on journalists has made them more vulnerable in doing their work," the rights commission said in a statement.
Mexico is regarded by some press organisations as the most dangerous country in Latin America for journalists.
The state of Durango has often been the scene of bloody clashes between rival drug cartels.
Eight human heads have recently been found in four locations outside Durango city, the state prosecutor's office said.
The victims were all men aged between 25 and 30, officials said.
Protests at the jail in Gomez Palacio erupted after state prosecutors accused officials of releasing inmates to carry out executions, including three massacres that left 35 dead this year in Coahuila state.