Mexico police find human heads dumped near Durango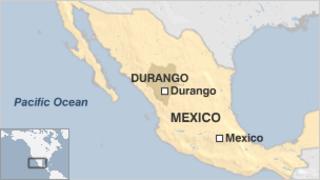 Eight human heads have been found in four locations outside the northern Mexican city of Durango.
The victims were men believed to have been aged between 25 and 30, the local prosecutor's office said.
Police found the heads after anonymous tip-offs, but had not identified the victims or found the bodies, the Durango state prosecutor's office said.
The state of Durango has been the scene of clashes in recent months between the rival Gulf and Sinaloa drug cartels.
Police received tip-offs that two human heads had been dumped on three roads out of Durango, the AFP news agency reported.
Workers cleaning a traffic island found the remaining two on a road leading north to the industrial city of Gomez Palacio, AFP reported.
'Contract killings'
State prosecutors have accused officials at a prison in Gomez Palacio of releasing inmates to carry out drug-related killings.
Those included three massacres which left 35 dead this year in neighbouring Torreon, in Coahuila state.
Prosecutors said guards at the prison had lent inmates weapons and vehicles in order for one of the massacres to be carried out.
The inmates then returned to their cells, said Ricardo Najera, a spokesman for the attorney-general's office.
He said the prisoners were acting as contract killers for a drugs gang when they killed 17 people at a party in Torreon in Coahuila state earlier in July.
Bullets found at the crime scene matched weapons assigned to some of the guards, Mr Najera said.
The same group is suspected in two other massacres.
The Mexican government says almost 25,000 people have died in drug-related violence since President Felipe Calderon deployed the army to fight the drugs gangs in December 2006.