Three more freed Cuban dissidents arrive in Spain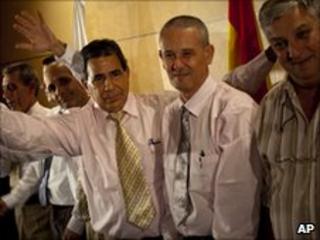 Three more Cuban dissidents recently released by Havana have arrived in Spain, along with dozens of relatives.
They are part of a group of 52 dissidents jailed since 2003 that Cuba has began to release in the last two weeks.
Their arrival has brought to 15 the number of freed dissidents taken in by Spain.
Cuba has agreed to free the 52 prisoners under a deal with the Catholic Church and Spain.
Some 115 political prisoners would remain in Cuba once the 52 are freed, according to figures from dissidents.
Eleven freed Cuban dissidents have arrived in Spain over the last few days, and a further five are expected to join them in the coming days.
Cuba has been under pressure to free dissidents since one prisoner on hunger strike, Orlando Zapata Tamayo, died in February.