Venezuela seeks stake in anti-Chavez TV Globovision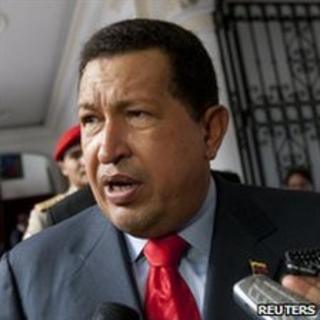 Venezuela's President Hugo Chavez has said his government is due to take control of a minority stake in the country's main anti-Chavez television channel, Globovision.
The government would then be entitled to appoint a member of the channel's board of directors, Mr Chavez said.
His government has been in conflict with Globovision for several years.
It accuses the broadcaster of supporting a failed coup attempt against Mr Chavez in 2002.
If the plan goes through, the Venezuelan government could be on the verge of becoming an important shareholder in a television company dedicated to criticising its policies.
Mr Chavez announced that in the past few weeks the government had taken over two companies - including a bank - owned by the co-founder of Globovision, Nelson Mezerhane.
Between them, those two companies own 25.8% of Globovision's shares, which Mr Chavez now wants to pass into the hands of the state.
The president claimed that such a minority stake in the television channel would entitle the government to appoint a member of the board of directors.
'Upper hand'
He immediately put forward the names of two staunchly pro-Chavez journalists as candidates.
If Mr Chavez is right, he may have just taken the upper hand in the government's long-running dispute with the broadcaster.
The reaction from Globovision was swift. "The editorial line of Globovision cannot be expropriated nor intervened in," the company said in a statement.
Globovision also denied that the government's control of Mr Mezerhane's bank gave it the right to appoint a board member.
However, Mr Chavez has made his point clear: he believes the government now has the right to a stake in Globovision.
It remains to be seen whether he will force the company to accept it.