Two escape from an Argentine jail guarded by a dummy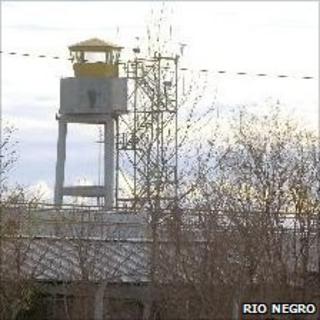 Two prisoners have escaped from a jail in Argentina, reportedly while it was using a dummy to man one of its guard towers.
Prison staff said a lack of resources meant that only two out of their 15 guard towers were occupied at any given time.
They told a local newspaper they put a football with a prison officer's cap in a third, to create the illusion of an extra guard.
The escaped convicts are on the run.
Walter Pozo and Cesar Andres, who were serving sentences for armed robbery, escaped from the prison in Neuquen province on Saturday.
A prison official, Nestor D'Abramo, said the two had been nearing the end of their respective sentences and were therefore housed in a part of the jail with fewer security measures.
Desperate measures
Mr D'Abramo said Mr Pozo and Mr Andres jumped over a wire fence and climbed over the perimeter wall.
An unnamed prison source quoted by local newspaper Diario Rio Negro on Tuesday, said a lack of resources was to blame for the escape.
According to the source, video cameras monitoring the wall stopped working months ago.
And due to a lack of personnel, only the two towers at either end of the prison were being manned by the guards.
"We've made a dummy out of a football and a prison officer's cap, so that the prisoners see its shadow and think they're being watched," the source told Rio Negro.
"We named him Wilson, like in the film Cast Away, and put him in one of the towers," the source added referring to the volleyball Tom Hanks' character uses for company.
The source told Diario Rio Negro he hoped that by pointing out what he called glaring failures in the prison system, politicians would be forced to react.