Ecuador's indigenous justice system on trial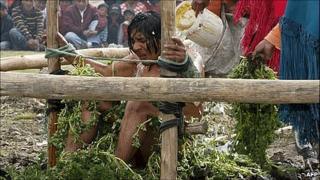 A few thousand people are gathered in La Cocha, an indigenous community in the Ecuadorean Andes, as a naked man is forced to carry a heavy bag of rocks around the town square.
The 22-year-old man, called Orlando Quishpe, is then tied to a post and drenched with cold water as people call him "murderer" and "traitor" in the local Quechua language.
The ceremony continues with women whipping him with stinging nettles and local leaders flogging his back with a leather strap.
This was the punishment that local indigenous authorities gave to Quishpe and four others for allegedly killing another local man, Marco Olivo.
The five young men were also ordered to pay $6,750 (£4,416) in reparations to the community.
The punishment took place on 23 May, but more than two months later it is still making headlines in Ecuador and raising questions. Is indigenous justice an abuse of human rights? Or is it a legitimate practice allowed by law?
Media backlash
A quarter of Ecuador's population is indigenous, divided among 16 nationalities across the Pacific coast, the Andes and the Amazon region.
Many communities have been managing their own justice for centuries.
The principle is to show people that they have done wrong and give them a chance to purify and live again in harmony with their community and with Mother Nature, or Pacha Mama.
Ecuador's constitution, approved in 2008, together with various international agreements signed by the country, recognises the rights of indigenous people, including their right to practise their own form of justice.
But following a media backlash that portrayed the events in La Cocha as barbaric and violent, the Ecuadorean government started questioning the legality of indigenous justice.
A government programme on public television showed violent images of indigenous protests and lynchings and asked: "Killings, kidnappings, lynchings, tortures… is this indigenous justice?"
'Forced confession'
Ecuador's President Rafael Correa himself called the events of La Cocha a "monstrosity".
"This degrading spectacle that we saw through the media is an injustice," said Mr Correa. "For God's sake, this is torture, this is barbarity."
According to relatives of Quishpe, he was coerced into a confession.
"They were kept in a cesspit, naked, with the water up to their chest and their eyes covered," says Oswaldo Quishpe, an uncle.
"Orlando came out looking like a prisoner of war."
He also says that his nephew's life was threatened, as La Cocha's leaders were supposedly considering passing a death sentence, which is unconstitutional.
Ricardo Chaluisa, president of La Cocha's community, denies these accusations.
He says that the death sentence was just a rumour and that the five men were kept in private homes, fed regularly and looked after properly.
After the incident came to light, Justice Minister Jose Serrano personally took part in an operation to transfer the five men to Quito, where they could be put on trial.
The men had medical tests to establish whether they had been tortured, but the results have not been made public.
At the same time, three indigenous leaders from La Cocha, including Mr Chaluisa, were arrested for kidnapping, torture, mistreatment and extortion.
When a judge released them because he said the evidence against them was inconclusive, he was suspended for misconduct. That case is now being reviewed by Ecuador's Constitutional Court.
James Anaya, a UN special rapporteur on the human rights and fundamental freedoms of indigenous people, has voiced concern at the government's actions.
"It is counter-productive for the construction of an intercultural and multinational state," said Mr Anaya, "to describe as wild and as human rights violations all expressions of indigenous justice, based on partial and incomplete information from the media."
Indigenous groups initially supported Mr Correa in 2006, when he was first elected. But many have since come to oppose his policies, organising protests against new laws to regulate mining and water resources.
The underlying problem is a supremacist view of power that leads to racism, says Fernando Garcia, an anthropologist and leading expert in indigenous justice.
"In Ecuador, inter-ethnic relations are still problematic," says Mr Garcia.
"Justice is one of the foundations of power and us 'mestizos' (mixed racial ancestry between white and indigenous) have always had the power and we're not used to letting go and accepting other visions."
For example, the punishment with cold water and stinging nettles is not torture, according to indigenous tradition.
Several Quechua communities use the same treatment for ritual purifying ceremonies.
At the same time, according to the indigenous philosophy, a prison sentence is considered a human rights abuse because it takes away the freedom of a person.
Mr Chaluisa says that prison terms make social reintegration harder compared to indigenous punishments.
Internal conflict
For example, his community handled another murder case in 2002, and the person convicted was punished in a similar way to Quishpe and is now an active member of the community.
The government argues that the constitution gives indigenous authorities only the right to solve "internal conflicts", not serious crimes such as murders.
But within the indigenous value system, murder is an internal conflict because it disrupts the natural harmony of the community.
Legislators and the justice ministry are currently working on a draft law to establish which cases can only be handled by the regular justice system, so avoiding cases such as La Cocha.
And there is hope that such a law could help in situations like this one.
For Ecuador's indigenous leaders there is no doubt that, with or without a new law, they will not stop applying their own justice.
"We are like the grass in the highlands," says Mr Chaluisa, quoting the renowned indigenous leader Dolores Cacuango.
"Even if they pull us out or burn us, our roots will sprout again more strongly."