Venezuela rejects Colombia claim it harbours rebels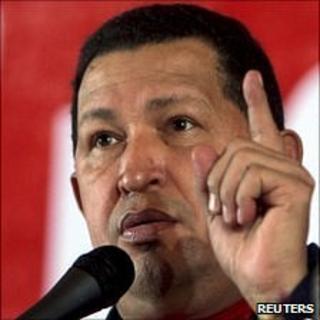 Venezuela has rejected Colombia's accusation that Caracas tolerates Colombian guerrillas on its territory.
The charge was "a desperate attempt" to undermine relations between the two countries, the Venezuelan foreign ministry said.
It later recalled its ambassador for consultations.
The Colombian government had said that it has clear evidence that five rebel leaders are sheltering in Venezuela.
The findings showed Venezuela's "continued and permanent tolerance" of guerrillas on its soil, Colombian Defence Minister Gabriel Silva said on Thursday.
He added that Bogota had video recordings and the exact grid co-ordinates not only of the Revolutionary Armed Forces of Colombia (Farc) camps, but those of the smaller National Liberation Army (ELN).
Venezuelan President Hugo Chavez has denied supporting Colombian rebel groups.
Venezuelan Foreign Minister Nicolas Maduro said the accusation was a bid by Colombia's outgoing president to undermine attempts to improve ties ahead of President-elect Juan Manuel Santos taking office next month.
"As these steps [to improved relations] are going ahead, [President Alvaro] Uribe's government has decided... to dynamite the rapprochement," Mr Maduro said.
Bilateral relations, already strained, took a turn for the worse when Colombia agreed last year to let US forces use Colombian military bases for anti-drug operations.
Mr Chavez said the move was a possible step towards a US invasion of Venezuela and he ended trade with Colombia.
Two years ago, Venezuela and Ecuador broke off diplomatic ties with Colombia after Colombian forces attacked a Farc camp in Ecuador, killing a senior rebel leader.