UN concerned about extrajudicial killings in Ecuador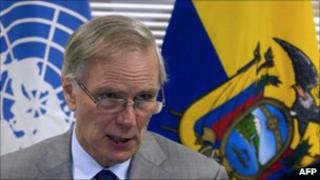 A United Nations-backed investigator says murders by gang members and hired killers in Ecuador are rising steadily, while the number caught is falling.
Philip Alston, UN special rapporteur on extra-judicial executions, said that for every 100 killings, only one perpetrator was convicted.
Mr Alston described a "vicious circle of impunity which left Ecuadorians feeling increasingly insecure".
But he said the government was attempting to address the problem.
Speaking in Quito, the UN rapporteur pointed out that the murder rate in Ecuador had doubled since 1990, to 20 killings per 100,000 inhabitants, and in some areas was five times higher.
Concerns about police
He said the police rarely carried out "serious or sustained investigations of killings", and that they did not seem to pursue a murder case seriously once they had decided it was a settling of accounts by criminal groups.
He also singled out Ecuador's prosecution service, which seemed "more concerned with public relations than with convicting major criminals", and the judicial system, which was "almost universally condemned for its inefficiency and mismanagement".
"Hired killers are paid as little as $20 to 'solve' a problem, but they can confidently expect to get away with murder because the criminal justice system functions so badly," said Mr Alston.
Support for government
The UN rapporteur said he was concerned about the spillover of the conflict in Colombia into Ecuador, creating a situation where civilians became trapped between the armed forces, rebels and criminal gangs.
"The Ecuadorean military is not well-equipped to deal with the situation, and as its relations with citizens have soured, its reliance on abusive tactics to obtain information has increased," he said.
But he also said the government of Rafael Correa had attempted to address the situation by introducing extensive reforms to the constitution and to human rights legislation.
Mr Alston called on the government of Ecuador to ensure that cases documented by the official Truth Commission, which examined human rights abuses over the past three decades, should become the subject of effective criminal investigations.
The UN special rapporteur's final report on Ecuador will be published later this year.