Hard life of Bolivia's 'salt plains guardians'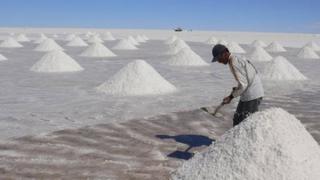 The lunar landscape is the closest thing Earth might have to a void. Nothing is the first word that springs to mind. All one sees is a white nothingness, stretching out to the horizon.
Except for the little piles of salt that one can see on the very edge of this salty desert; and the dark silhouettes of people shovelling the shiny chunks of salt into piles, so that the salt can dry out under the intense, almost frying, heat of the sun.
They are the salt gatherers, native Quechua people, who for generations have lived harsh lives picking up salt on the Uyuni salt flats. These are the largest salt plains in the world, covering 10,000 sq km (3,800 sq miles).
These poor indigenous people have used the same method for hundreds of years to make out a humble living in this harsh and eerie landscape.
Until not long ago, they used to carry the salt on caravans of llamas, the Andean relatives of camels, along the vast high plains of the Andes and exchange salt for wool, metals, food and water.
The Chambi brothers do the same today, but they use an old red and rusty pick-up lorry instead.
"We've been doing the same for generations, since my ancestors, for hundreds of years, they used to do the same work as I do today. Then my grandfather, my father, now me," says Nirmo, who is 29 and has been picking up salt in the blinding dazzle of this dry, white ocean since he was 10.
"I feel the salt plains are part of myself and vice-versa. And I feel I'll never leave. But that's up to destiny," he adds pointing at nowhere, in this remote corner of one of South America's poorest countries.
Many cover their faces with balaclavas and sunglasses to avoid blindness and sunburn. For their sweat, they earn an average of $100 (£60) a month.
"It is hard, one gets very tired. It is very hard work, we start very early in the morning every day. When one is young is fine, but as you grow old you start feeling the tiredness," says Nirmo's younger brother, Moises, who is holding an old shovel.
"It is back-breaking work, so normally at 35 you have to give up. I am 23, so I still have plenty of time," he says.
"But even if I feel I have a strong connection with the salt plains, I want my daughters to study, I want them to have a profession, so they don't have to work here, there's no future here, only poverty," explains Moises.
Lithium hope
There are, though, great expectations here, hopes that a better living could actually be on the way for people like the Chambi family.
There is a lot of talk about the Andean country potentially becoming the "Saudi Arabia of lithium" - the world's lightest metal that will be used on batteries for electric cars.Companies from Japan, South Korea and France are vying for a piece of the untapped bounty beneath the feet of the salt gatherers.
So the Bolivian government is finishing a pilot plant to study how to get the lithium out of these salt flats.
Experts believe that Bolivia, a poverty-stricken country, holds 50% of the world's total supplies of lithium, contained in vast lakes of brine beneath the surface.
The next step according to Bolivia's first indigenous president, Evo Morales, is the industrialisation of the material.
"We would like to believe we would see progress, jobs, and some development here. Is this too much to ask?" says Nirmo. "After all, the president is one of us, an indigenous peasant."
Yet back in the little village of Colchani, the home of most of the salt gatherers, the landscape looks as eerie and deserted as in the salty desert: a clutch of adobe houses, one church, one grocery store that sells basic supplies and one school.
The town only has electricity a couple of hours a day.
There, Quintin Aguirre sits outside his small house of grey adobe bricks. He heads the co-operative of salt gatherers as he is now hunchbacked and walks with difficulty after so many years of picking salt.
"We live off the salt flats, it is salvation for us. If there will be a developed lithium industry, we want to think we'll get some revenues out of it, something," he says.
However, for some, the most likely scenario will be that the salt gatherers will just lean on their shovels and watch as shiny trucks whiz past on new roads, and the money bypasses them.
"After all, we deserve that. We are the original people from here. We are the guardians of the salt plains."