First female chief minister elected in Jersey
By Georgina Barnes & Freddie Miller
BBC News Online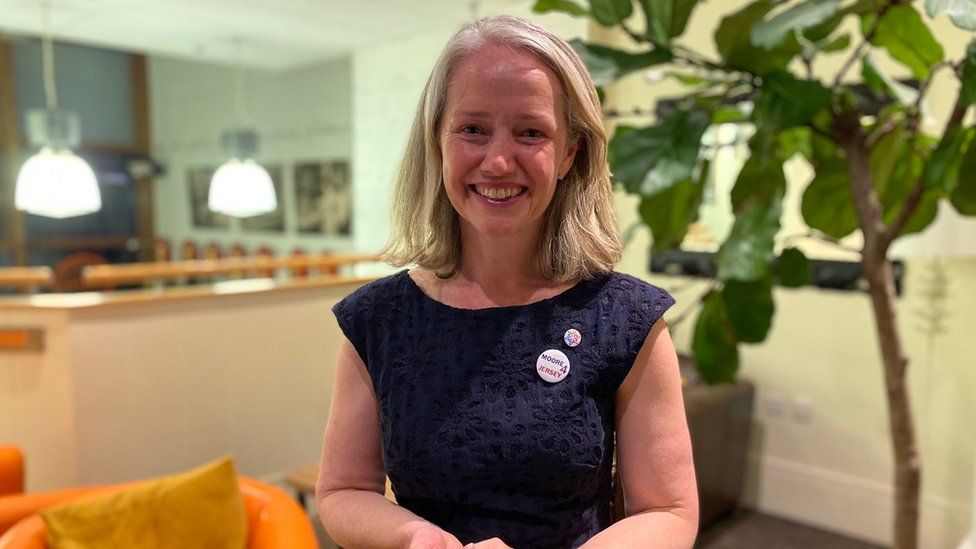 Jersey's States Assembly has elected its first ever female chief minister.
Independent Kristina Moore won the two person election with 39 votes compared to 10 for Sam Mezec, leader of the Reform Jersey party.
Ms Moore was elected in the new government's first official States meeting on Tuesday.
No politicians abstained and her cabinet, the Council of Ministers, will be selected in one week.
Ms Moore received more public votes than any other deputy candidate.
Addressing the chamber, she said: "My challenge to everyone here in this chamber and beyond is to join me.
"To join me on a mission to rebuild trust, to unite our wonderful community and to perform our own reset and put our island back on track."
Ahead of the vote, she was backed by 30 of her fellow politicians who signed her nomination forms, compared to nine for Mr Mezec.
Chief Executive of the Government of Jersey, Suzanne Wylie, congratulated Ms Moore, and said she looked forward to "getting to work with you and your Council of Ministers".
She said: "I would like to, on behalf of all States of Jersey employees, congratulate you on your election as chief minister designate.
"The public service is ready to serve your forthcoming administration and, following their election next week, support ministers in delivering your ambitions for the island."
Ms Moore said she wanted to "lead a government that is open, transparent, inclusive, accountable and most importantly, will get things done".
"In four years time, I want you and the voters to be able to recognise that the States has made a real difference in improving people's lives and setting us on a path of renewal and growth," she said.
In her statement, she said the main topics she planned to focus on were improving housing prices, lifting the minimum wage to £10 per hour and managing the rising cost of petrol, diesel and heating oil.
Ms Moore also noted she would put forward a proposition to "deliver free sanitary products" - she had previously put forward a request to the government for the tax to be removed from them.
The minister said she would appoint a lead minister for the new hospital, saying the current plans "didn't make sense".
"It would be wrong not to ask those deep and meaningful questions about changing tack and focusing on achieving an affordable and appropriate hospital solution for the island," she said.
Other improvements discussed would focus on improving "our quality of life", protecting and enhancing the island's environment and providing a home for "every Jersey family".
Ms Moore said she would appoint two ministers to work on the island's education departments.
The future chief minister named potential ministers for her cabinet, including Deputy Ian Gorst as the minister for treasury and financial services and Deputy Jonathan Renouf as minister for environment and energy.
Mr Mezec, the leader of centre-left Reform Jersey, said his top three priorities would be to "create a more equal society... prepare Jersey for the challenges of the future" and "restore government accountability and democracy".
In his speech, he told the assembly it was "the most diverse and representative we've ever had", and to "make history by voting to give Jersey its first social democratic government".
Ms Moore will officially take up the position once the Council of Ministers has been elected in a States meeting being held on 11 and 12 July.
Political analysis by BBC Jersey political reporter Freddie Miller
Deputy Moore has pledged to bring people together.
But one of her first acts will be to launch a "brief review" of the £804.5m plans for Jersey's new hospital - a topic which has divided islanders for the past decade.
Ms Moore this morning told the assembly: "What we need to see is the quantum of money that can be saved by a change of course."
While some will be delighted at the prospect of a rethink, others - those desperate for officials to "get on with it" - will despair.
More popular is likely to be her promise of a mini-budget, to be debated at the first political sitting in September, to offer targeted support to islanders struggling with the rising cost of living.
Meanwhile, the full and complete details of her plans to tackle Jersey's housing crisis - by increasing the supply of new homes with "swift planning decisions", introducing assisted purchase schemes and "better supporting and protecting" islanders who rent - are not yet clear.
As for Deputy Mezec, he and his nine fellow party members now have a choice to make: do they seek to work with the new chief minister, or to form a shadow cabinet?
As the biggest political party in the chamber and with manifesto pledges to deliver upon, Reform Jersey and its members will undoubtedly continue to make their presence felt throughout the next four years, no matter what roles they end up fulfilling.
Related Internet Links
The BBC is not responsible for the content of external sites.